Arboricultural Consultants
The Arboricultural Consultants' job of surveying trees, collecting data and preparing reports is made more efficient and cost effective when using the Tree Survey and BS5837 Survey Android™ applications and OTISS's online maps and reporting facilities.
Try OTISS for free
The OTISS approach

Website for managing clients, surveys and data.
On-site data and photo collection using Android phone, tablet or GPS device.
Customised survey forms.
Tailored reports with charts and tables.
Maps and colour coded trees and groups.
Online collaboration with clients, staff sub-contractors.
Save time on data entry and improve accuracy.
READ MORE…
Focus your time and effort on the arboriculture.
READ MORE…
Tailored surveys and reports for each client.
READ MORE…
Always have the latest features and survey apps. We do all the data backups and upgrades.
READ MORE…
Comprehensive help and support.
READ MORE…
Staff and clients can access from any where, at any time.
READ MORE…
This video provides an overview of how Arboricultural Consultants would use OTISS to carry out a TreeSafety or BS5837 survey. Setting up the client survey; on-site surveying; checking the data; and producing some reports. There is no voice-over – just subtitles.
BS5837 Surveys
Complete BS5837:2012 survey form.
Automatic calculation of RPA.
Colour coded icons BS5837 retention category.
CAD/DXF drawings with crown, RPA and shadow.
Compatible with KeyTREE and ArborCAD.
Tree Valuation: CAVAT, TEMPO.
Tree Safety & Risk Assessment
Customised survey forms for each client.
Tree Risk Assessment: ISA TRAQ, QTRA, THREATS, Matheny & Clark and more.
Tree Valuation: CAVAT.
Tree Preservation Order: TEMPO.
Audit trail, photos and history of annual surveys.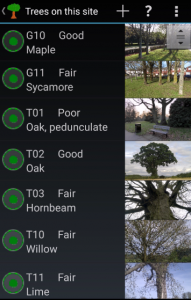 Take Photos as part of the Survey.
Good photos reduce the need for detailed descriptions, and speed up the survey process. The photos are considered to be an integral part of the survey and are sync'ed to the OTISS website along with the other survey data.
Maps & Drawings
Upload your site/topography plans, CAD drawings, Ordnance Survey Mastermap, PDFs and geo-referenced maps. Also available are: OpenStreetMap, Google Street and Aerial Maps.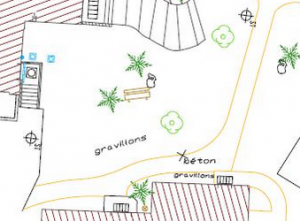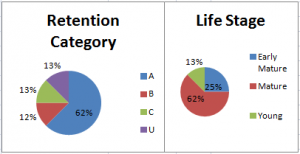 Reports
OTISS does not force you to use a particular report format. Instead we provide a set of customisable charts and data tables (PDF and Excel), maps and CAD; for you to encorporate into reports and work schedules.
Benefits of being 'online'
Share maps, data and reports directly with your clients. Team surveying on large sites with your colleagues and sub-contractors.
READ MORE…
Prices
OTISS is an online service, there is no software to install or maintain on your PCs. After the free trial, users pay an annual subscription for the use of the system.
READ MORE…
Students & Colleges
Arboricultural students can use OTISS for free for coursework and study.
READ MORE…
Android or iPhone
The OTISS survey apps run on all Android phones, tablets and GPS devices. You can also use an Android tablet linked via your iPhone for on-site surveying.
READ MORE…