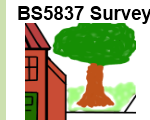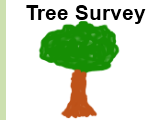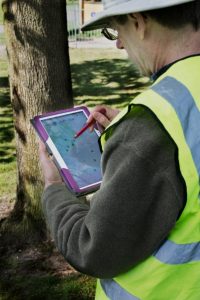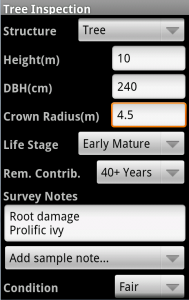 Arboricultural Training Providers
For Profession and Basic Tree Inspection courses (1 to 5 days), OTISS can be integrated into the teaching programme to provide a low cost, phone/tablet based system to allow attendees to plot trees and record the required inspection data.
For diploma level or longer term courses that include units on Tree Inspection, Risk Assessment and BS5837. OTISS can be integrated into the teaching programme to provide a low cost, web-based system suitable for students to gain experience of using modern Tree Survey software systems. Read more here…
Using OTISS for short courses
An important part of all tree inspection courses is to get out of the classroom and stand in front of some trees. Attendees need to put the theory into practice; they need to measure, to observe and to record. Typically, they are given pen and paper survey forms to fill in, but a more modern approach would be to use handheld tablets provided by the trainer.
Before the course starts, the tutor would use OTISS to setup a survey site and customise a survey form appropriate for the course (e.g. Basic Inspection, Professional Inspection, ISA, etc.). They select what data fields appear on the form; decide which ones are optional and which are mandatory; configure all dropdown and pick lists as required.
The tutor hands out some Android tablets with the OTISS survey apps installed. The students can use these tablets to record their measurements and observations while outside in the survey area.
Back in the classroom the tutor tyically leads a discussion about the results. The attendees can refer to the data on their tablets. Alternatively, the tutor can sync all the data collected and use a projector attached to a PC to show the collated data on the OTISS website.
When the course is finished, the tutor will collect all the tablets and remove the surveys from each one. The system is now ready to be used again on the next course.
Please contact us if you want to go into more detail about the practicalities of using OTISS for your courses.
For example:
A good idea may be to pre-plot some trees and assign them a reference/tag number and species, but no other data. The attendees can then fill in the data and observations; but you all have a common reference number to use the the subsequent discussions.


What does it cost?
This is an online service, there is no software to install or maintain on your PCs. Training Providers pay an annual subscription for the use of the system.
All prices are exclusive of VAT. Please allow one working day from time of purchase until the subscription is activated on OTISS.
Service
Charges (excl. VAT)
Summary of features included
Tree Inspection
Training Providers
Allow up to 'n' course attendees to use OTISS as part of training courses throughout the year.
Unlimited use of all the Tree Safety, Risk Assessment and BS5837 features (surveys, maps, PDF reports, Excel, CAD/DXF downloads). Unlimited use of the TreeSafety Survey, BS5837 Survey Android applications. Up to a maximum of 100 trees per survey type. Includes 1 Gbytes of photo storage.
Tablets
n/a
OTISS does not sell phones, tablets or phone contracts – you can get them at the usual phone and electronic retail places.

The OTISS survey apps run on all Android tablets – read more…
Perhaps we have not presented the OTISS option most suitable for your requirements. I am sure that we can tailor the options and services available to your needs. Please contact us to discuss your requirements further.